Summer has flown by once again... I hope you all enjoyed some relaxation and laughter with family and friends to brighten your days this season.
My summer was full of adventures. In June we listened to my husband's jazz band "Stolen Moments" perform in the Vermont Jazz Festival. My favorite gig was outside of Leunig's on Church Street! We traveled for my nieces wedding to Raleigh, North Carolina and from their traveled the long way home in order to see some great music in Nashville, Tennessee.
We camped, hiked and boated in Vermont. I attended a 4 day Summer Music Educators Workshop at Carnegie Hall and performed show tunes in a Times Square "Pop-up-Concert" in a chorus with my son. The workshop was run by educators and musicians from esteemed schools such as Harvard and Juilliard. My colleagues came from all over the world, Cambodia, Brazil, Australia and Vietnam, just to name a few. In August we headed back down south for a big family (35 of us in one house!) vacation on the beaches of Emerald Isle, North Carolina.
Wycliffe Gordon teaching improv...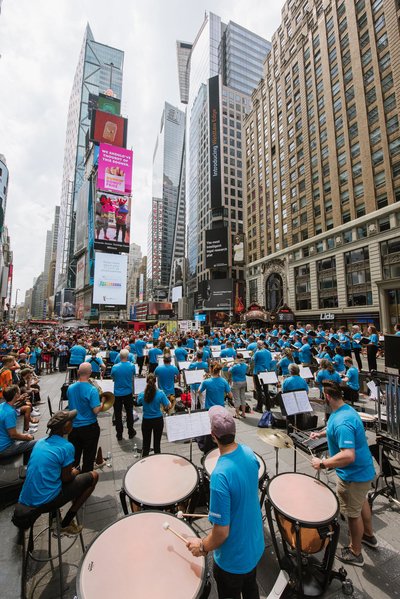 Singing in Times Square!
Choral Technique with Dr. Ronnie Oliver.
Now refreshed and rejuvenated, I am looking forward to seeing everyone back in the NEW Mater Christi Music Room!! I am now located in Leah Easley's former room, If you haven't seen it please feel free to stop in and say "Hello!"
Looking ahead to the fall we have some exciting new changes to our schedule at the
Middle School grade levels
. We will be adjusting the schedule to alternate the Fine Arts classes. Each grade level, 6, 7 & 8, will have Music, Art or Maker space,
twice
each week as part of an 11 week rotation. All Elementary grade level classes PS/PK - 5th grade will maintain the same schedule as in previous years, meeting in all fine arts areas once per week for 42 minutes.
Mater Christi Concert Choir!
In order to foster continued growth in the performing artsthe Middle School Concert Choir will be rehearsing during study hall times on Monday and Wednesday afternoons. Students may choose to attend one rehearsal per week or both. I look forward to a great year of singing!!